Love Shakeology? Did you know you can turn it into Shakeology dessert recipe?
For someone with a serious sweet tooth, dessert after dinner isn't as much of an option as it is a requirement. After you finish the main course, you crave something sweet to round out the flavor profile of the meal. But when you're trying to stick to a healthy eating plan, finding nutritious, dessert-worthy treats can be tricky. Sure, you could eat fruit, but sometimes you just need something rich and chocolaty. And that store-bought ice cream or brownies from a box might taste good at first, but you know they're not good for you.
Luckily, Shakeology can be used as a tasty and healthy base for many dessert recipes: Tiramisu Cookies, Vanilla Almond Balls, Chocolate Peanut Butter Ice Cream…the options are plentiful! And to make things even better, all 15 of these Shakeology desserts are no-bake recipes, so they're quick and easy to make.
Don't have Shakeology yet? Get all of the Shakeology flavors here!
Shakeology Dessert Recipes
Vanilla Almond Energy Balls


Truffles are delicious, but hardly low in calories. Fortunately, we figured out that if you combine Vanilla Shakeology with oats, almond butter, almond milk, and almonds, you can replicate the creamy, nutty taste of truffles for only 80 calories per ball!
These sweet pick-me-ups taste like truffles!
Total Time: 15 min.
Prep Time: 15 min.
Cooking Time: None
Yield: 15 servings, 1 ball each
Ingredients:
1 ½ scoops Vanilla Shakeology
½ cup almond flour
½ cup old-fashioned rolled oats
¼ cup all-natural almond butter
1/3 cup unsweetened almond milk
¼ cup sliced raw almonds
Preparation:
1. Combine Shakeology, almond flour, and oats in a medium bowl; mix well.
2. Add almond butter and almond milk; mix well with a spatula or clean hands until it forms a thick batter.
3. Roll mixture into fifteen balls, each about 1-inch in size.
4. Roll balls in almonds.
Shakeology Chocolate Peanut Butter Oat Bars


This brownie-like treat is the perfect option for a heathy after-dinner snack. They're so simple to make, too. Just mix the five ingredients together, place the mixture in a pan, pop them in the freezer for a few hours, and voila! Dessert is served.
Shakeology Chocolate Peanut Butter Oat Bars
The classic flavors of chocolate and peanut butter meld together in this brownie-like treat.
Servings
8
servings, 1 bar each
Ingredients
1

scoop Chocolate Shakeology

½

cup

old-fashioned rolled oats

1

scoop Whey Protein Powder

, Chocolate or Vanilla Flavor

½

cup

all-natural peanut butter

½

ripe medium banana

, mashed

Nonstick cooking spray
Instructions
Combine Shakeology, oats, and Whey Protein Powder in a large bowl; mix well.

Add peanut butter and banana; mix well with a spatula or clean hands.

Place in an 8 x 8-inch pan that is lightly coated with spray. Cover with plastic wrap and press down to flatten into pan. Freeze for 3 hours.

Cut into eight bars.
Nutritional Information (per serving):
Calories: 155
Total Fat: 9 g
Saturated Fat: 2 g
Cholesterol: 4 mg
Sodium: 64 g
Carbohydrates: 11 g
Fiber: 3 g
Sugars: 3 g
Protein: 9 g
P90X/P90X2 Portions
1 Single Serving Snack
½ Fat
P90X3 Portions
½ Protein
½ Carb
1 ½ Fat
Body Beast Portions
1 Protein
½ Starch
1 ½ Fat
Containers
1 Yellow
2 tsp.
Peanut Butter Shakeology Cups


Peanut butter and chocolate is a classic pairing, so it was an obvious choice to create a recipe for Chocolate Shakeology peanut butter cups. After trying one of these cups, you'll never want to eat another store bought one again.
Vanilla Peanut Butter Ice Cream


Homemade ice cream doesn't get much easier than this. All it takes is four ingredients to make a creamy dessert that's sweet, salty, and completely irresistible.
Chocolate Shakeology Pudding


If you're a serious chocoholic, then you're going to love this recipe. Avocado is the special ingredient that takes Chocolate Shakeology to the next level by making a smooth, velvety dessert to satisfy your cravings.
Vanilla Shakeology Macadamia Nut Pineapple Balls


The tropical taste of pineapples and the nutty flavor of macadamia nuts are a match made in heaven. Add in some sweet Vanilla Shakeology and you have a treat that's great for any time of day.
Double Chocolate No-Bake Vegan Brownies


Spare yourself from the heat of the oven with these no-bake brownies. They're rich, chocolaty, and vegan.
Strawberry Lemonade Bars


There's nothing that's quite as reminiscent of relaxing summer evenings as the flavor of lemonade. We dressed it up by using Strawberry Shakeology to create these refreshingly fruity bars. They're part cookie and part energy bar, so they can satisfy your sweet tooth while fueling you up for your next workout.
No-Churn Chocolate Peanut Butter Shakeology Ice Cream


Chocolate peanut butter ice cream that's good for you? Believe it! This ice cream is rich and creamy, with just the right amount of sweetness. It only has four ingredients and takes just 10 minutes to make.
Carrot Cake Energy Balls


Just because carrot cake contains carrots, it doesn't mean it's healthy. It's still cake, after all. That's why we created these devilishly-good carrot cake energy balls made with Vanilla Shakeology so you can enjoy the same flavor for only 90 calories!
Tiramisu No-Bake Cookies


Treat yourself to a decadent dessert without straying from your nutrition goals. Cocoa powder, almond butter, and  Cafe Latte Shakeology combine to  make these delightful tiramisu-flavored cookies. All it takes to make them is a little mixing, a little rolling, and a whole lot of enjoying.
Gingerbread Balls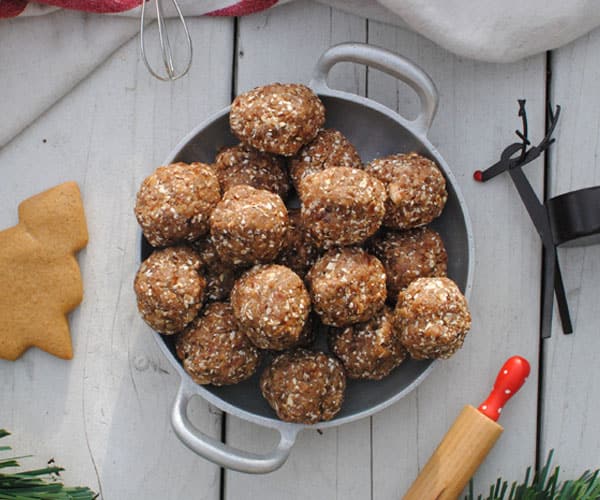 It's easy to overindulge during the holidays with tempting treats like  eggnog, peppermint chocolates, and  gingerbread. Luckily, these no-bake gingerbread balls are a delicious way to enjoy the spiced flavor of gingerbread cookies without the guilt! With only 58 calories per serving, we won't blame you if you make them all year round.
Mixed Berry Popsicles


Switch up your Shakeology routine by making a frozen treat instead of a shake. These popsicles are a blast of berry flavor with sweet blueberries, raspberries, and blackberries and a hint of tart cranberry.
Homemade Energy Bars


In just a few minutes, you can create a customizable treat that's great for dessert or a midday snack. All you need is your choice of nuts and dried fruits and two scoops of  your favorite Shakeology flavor for a boost of nutrition and filling protein.
Banana Honeymoon Shakeology Pie


We created a chocolate, peanut butter, and banana pie that is delicious and not a bazillion calories. With the addition of Chocolate Shakeology, this pie has 13 grams of protein per slice. You're welcome.