9 Simple Ways to Reduce Stress Through Nutrition
Along with meditation and yoga, you can reduce stress with nutrition and healthy eating so that you can meet life's challenges head-on.
We all feel stress for different reasons. It might be work pressure, family demands, or financial strains.
But thankfully, there are ways to reduce stress that help us feel healthy and strong, such as meditation and yoga.
Healthy eating is another way to combat stress and meet challenges head-on.
"Fueling your body with proper nutrition helps reduce stress because it gives you enough energy to get through your day," explains Quyen Vu, M.S., Beachbody Culinary Nutrition Specialist.
"If you don't eat regularly or not enough, you're running on half-empty, which can make you feel drained or tired," she adds.
Eating right can help you feel at the top of your game, even when stress hits. Here are nine simple ways to reduce stress with nutrition.
1. Find balance in topsy-turvy times
"With so much uncertainty going on in the world around us, one thing we can control is how we eat," says Bansari Acharya, M.A., R.D.N.
A balanced diet with plenty of fruits and vegetables "is extremely beneficial for helping manage stress."
2. Create calm through a meal-time routine
"Having structure throughout the week requires some planning," says Acharya. "But when things come up, having that reliable structure in place makes it easier to be flexible. A meal-time routine also promotes consistency, which is crucial for maintaining a healthy mind and body."
3. Prepare for the unexpected
A conference call goes on longer than scheduled. A new client is demanding. A lot can happen before lunch. Prepping workweek meals or batch cooking on the weekend takes the pressure off multitasking when you're under fire.
"I also like knowing that if I get hungry, there is a perfectly delicious snack for me to eat, and I won't spend extra money on convenience foods," adds Vu.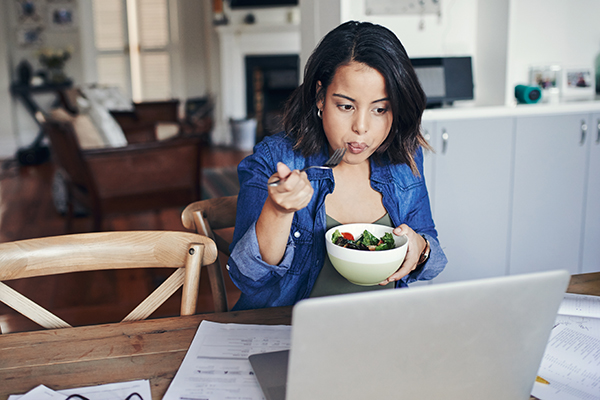 4. Make your own grab-and-go options
"If you don't like being rushed in the morning, make and prepare your lunch the night before," says Vu.
This applies even if you're working from home (and steps from your fridge) to avoid pitfalls, such as skipping meals or reaching for unhealthy snacks during crunch time.
5. Feel nourished and empowered
"Getting the necessary nutrients your mind and body need to work efficiently and effectively is especially important when you're faced with daily stressors," says Acharya.
For the most satisfying meals and snacks, pair protein, carbs, and fat together to keep you feeling full for longer, adds Vu.
If you only have carbs, you'll most likely be starving by your next meal.
6. Choose your treats mindfully
When you're fully focused on work, you might not notice how quickly that yummy bag of popcorn or chocolate chips is disappearing.
"If you do decide to have chips or candy, portion them out into a single serving so that you don't overeat mindlessly," recommends Vu.
7. Eat before "hanger" sets in
"Don't let yourself get too hungry because that can lead to overeating," says Vu. "Take a break when you're feeling 'hungry and ready to eat,' not when you've got a ravenous appetite."
Trying to work when you're starving can also make you feel more on edge.
8. Make it easier on yourself
Small changes can sometimes entice you to eat better. Simply cutting up your fruits and veggies into bite-size pieces can help you consume healthy foods, explains Vu.
"For example, if you don't like biting into an apple, you're not likely to eat it, but if it's cut up into pieces in a reusable container, you probably will," she adds.
9. Turn meal prep into R&R
Cooking is a great way to take a break and prioritize taking care of yourself. "It can definitely be therapeutic," says Vu. "Once you get into a groove of things, it can be something that you're looking forward to doing."
"One of my favorite meal preps is cutting up fruit and veggies for the week and putting them in matching containers," she says. "It helps me feel like I have my life together."
From the Beachbody On Demand Blog –  | BY: Cemile Kavountzis