BODCast is a brand-new feature of BODi, Beachbody's streaming fitness platform. Members get to join LIVE workouts in real time AND share the big screen with Beachbody trainers who give shout-outs, just like in a studio class.
Simply access BODcast through the BOD app, available for both iOS and Android. You can stream LIVE workouts through any mobile device, laptop, or desktop computer that has a camera or webcam.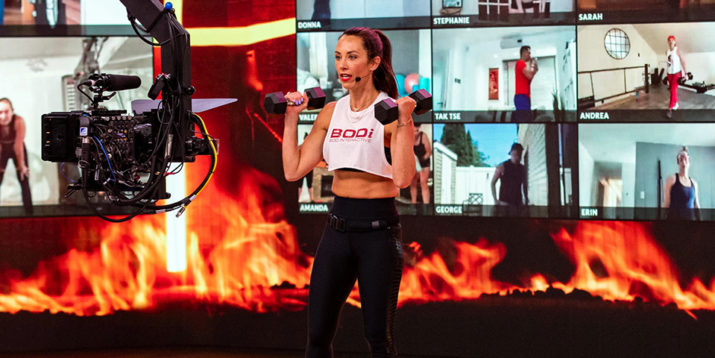 We all know reasons not to go to a gym: the cost, inconvenience, sanitary considerations.
But we love the energy of working out with others and getting cues and motivation from a trainer.
That's why we created the BODcast on BODi.
How Do I Reserve a Spot On the BODcast Big Screen?
Sign up within 24 hours of the class start time. You just need to be a BODi member to join.
This is what it'll look like:
NOTE: Screen spots are limited, so reserve a spot on the earlier side if you can. If a class is full, you can still join it and work out — your image just won't appear on the big screen.
How Do I Get the Best BODcast Experience?
Lights, camera, action!
LIGHTS
Set yourself up in a well-lit room. Natural daylight is typically best.
Try to avoid windows beside or behind you so you don't appear as a silhouette.
If you can, add lighting to the front of your space so we can see your face on-screen.
CAMERA
Try to position your camera about 6 to 7 feet away from you, right around eye level so your body is visible at all times.
Choose a plain, simple background.
Make sure the camera is stable.
To prevent distortion of your screen, don't use the wide-angle feature.
Don't be shy! Stay on camera where everyone can see you.
A strong wi-fi signal is key. Turn off nearby wi-fi devices for a better connection.
ACTION
When it's go time, make sure you have enough space to move around.
Keep your mat, towel, equipment, and water nearby.
Avoid non-Beachbody logos, branding, and sayings, as well as inappropriate or offensive clothing.
Be courteous and respectful while on-screen to help ensure everyone has a great workout in a safe environment.
How do I find a BODcast workout that's right for me?
Whether you're looking for the intimate feel of a boutique studio, or the feeling of a packed cardio class, we've got something for you.
Explore the BODcast schedule and join the next live workout!