The 21 Day Fix Super Block for April 2023 is coming April 3rd and starts April 6th. Earn it with your nutritional subscription or purchase it for $29. Please note that the last day to get the 21 Day Fix Super Block for free is March 31st. I suggest the The BODi Essentials Collection ($199.00 with Code RICHTSP20) if you don't already have BODi. If you already have BODi, then you only need The Essentials Collection Completion Pack. Both come with a free Super Block workout program.
If you're a fan of Autumn's 21 Day Fix programs, you're going to love what she has in store for you in April.
Are you new to Autumn's workouts?
Well, we guarantee you'll love her 21 Day Fix Super Block too! Keep reading to learn more.
So What Is a Super Block?
By now you've probably heard of BODi Blocks — 4 new programs that start on the first Monday of every month.
Each Block features 5 workouts a week for 3 weeks, followed by an "UP Week" (which stands for "Unconditional Progress") to reset and recover.
A Super Block is when our Super Trainers remake one of their most popular programs in the BODi Block format.
This is your chance to revisit your favorite programs — like 21 Day Fix or T25 — with new workouts, new playlists set to popular music, and an entirely new experience.
It's all about giving you more of what you love, plus a little push to get you where you want to go.
Why are Blocks such a breakthrough?
They're based on block periodization, a proven approach to exercise and recovery that challenges you without overtraining.
It's all about helping you create consistency with your Health Esteem routine.
Your life is busy. Pretending you're going to work out every day and never eat a cookie is silly.
So, we're ditching the perfection mindset and bringing you new programs every month that you can actually stick to because they work with real life. Really.
Want to learn more about BODi Blocks and Super Blocks? Click here.
Super Block April Spotlight: 21 Day Fix with Autumn Calabrese
What Is the 21 Day Fix Super Block?
It's everything you love about 21 Day Fix — now in a Super Block!
Super Trainer Autumn Calabrese has remade her megahit program using the proven block periodization structure, with new moves and popular music.
How Is It Different From Other 21 Day Fix Programs?
The workouts are similar to 21 Day Fix and 21 Day Fix Real Time. The moves are new, but the structure repeats over 3 weeks so you know what to expect.
She's designed it so you'll make progress each week as you gain confidence, push harder, increase your weights, and get stronger day by day.
What Kind of Workouts Can I Expect?
You'll work your body from head to toe in this Super Block.
Autumn is bringing back your favorite 21 Day Fix formats — you'll get your heart pumping with two days of cardio-focused workouts and help sculpt your muscles with 3 days of strength-focused training.
Autumn also created an optional 5er Ab Fix workout that you can do twice a week for an added burn, plus 3 bonus Cycle Fix workouts you can swap in on cardio days, or whenever you want an extra workout.
What Kind of Equipment Do I Need?
You'll need light, medium, and heavy dumbbells. A mat is optional.
How Do I Know if 21 Day Fix Is Right for Me?
If you've worked out with Autumn before, you know that she's going to bring the heat — and the fun.
She's dialed in the right combo of resistance training and cardio and added her signature motivation and tough love to push you to reach your goals, whether you're just starting out or you've worked out for years.
Don't worry if you've never done a workout with Autumn. She makes sure this Super Block will work for you. Every workout has a modifier, so no matter your fitness level you can follow along and feel great.
How Does Healthy Eating Fit Into This Super Block?
The perfect pairing for the 21 Day Fix Super Block is Autumn's Portion Fix eating plan.
She makes it simple to eat all your favorite foods in the portions that work for you, and you get plenty of delicious recipes so you'll love every bite.
The color-coded containers take all the guesswork out of eating, and you won't be asked to count calories or cut out food groups.
When Can I Access the 21 Day Fix Super Block?
21 Day Fix starts April 3, exclusively on BODi.
How Do I Access This Super Block?
There are a few ways you can access this Super Block — and unlock a second Super Block at the same time— for free.
For starters, you can purchase a Total-Solution Pack or Completion Pack (The Essentials Collection is the perfect choice to build your Health Esteem routine) in March or April.
You can also unlock this Super Block and a second Super Block with your purchase of a qualifying nutrition subscription in March or April.**
What if you already have a qualifying nutrition subscription? If you renew your subscription in March, you'll unlock the 21 Day Fix Super Block for free.
Just want to get your Fix? You can buy access to the 21 Day Fix Super Block for $29 ($35 CAD, £29 GBP, €35 EUR).
However you choose to unlock your access to this Super Block, a BODi membership is required.
Who Is Autumn Calabrese?
Super Trainer Autumn Calabrese is the creator of 21 Day Fix® and 4 Weeks For Every Body™, as well as other breakthrough fitness programs, the cooking show FIXATE®, and the Portion Fix® and The 4 Week Gut Protocol® eating plans.
She's a certified holistic health coach through the Institute of Integrative Nutrition and has held certifications from NASM and AFPA.
2023 Super Block Calendar
Want to know what's coming up next? Check the Super Block Calendar below and take a look at the phenomenal trainers and hit programs we've got lined up for you this year.
Get ready to have fun and feel amazing with tons of variety that keeps you coming back every month!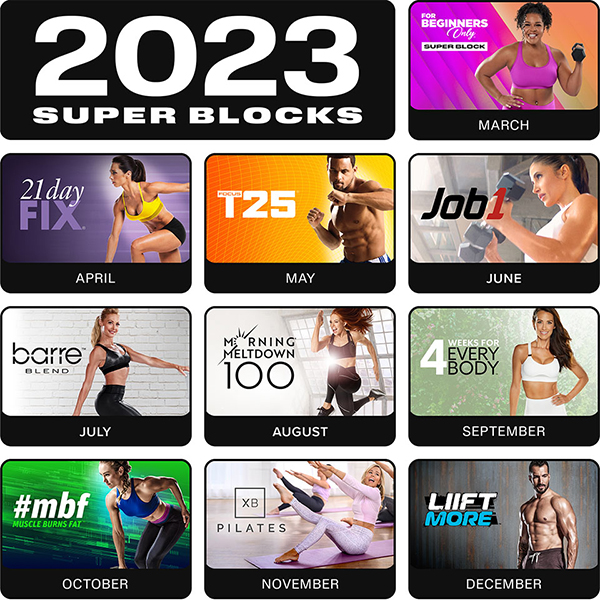 **Offer valid on the following qualifying nutrition subscriptions: Shake & Hustle, Shakeology, Performance Stack, Go & Glow Stack (Ready Set Glow in GB & EU), FIRST THING, FIRST THING + LAST THING. Products vary by market. Any other combination of nutrition subscriptions totaling over $115 ($141 CAD, £115 GBP, €115 EUR) in a calendar month earns the next month's Super Block FREE. Total is based on retail price (excluding applicable shipping and handling costs and taxes), with the exception of some nutrition subscriptions in the UK and France where VAT is included in the total. Coach/Preferred Customer pricing may be lower.