Setting goals for 2023 and sticking with them like a New Year resolution can be a challenge, but it doesn't have to be. This tradition can be a great way to accomplish goals and create positive changes in your life. Read more of Ashley Zlatopolsky's post in the Beachbody On Demand blog.
Oftentimes, figuring out what you want to attain can be the biggest roadblock when figuring out how to set a new year's resolution — or any goal.
Once you get past that hurdle, finding success is achievable.
Here are five tips for setting and crushing your goals for 2023 and beyond!
1. Determine your goal
The first step in identifying a good new year resolution or goal is to consider what's important in your life.
Dietitian Julie Feldman, M.P.H., R.D.N., says focusing on your values can be the best place to start.
"I like to help my clients establish five core values that they focus on as they set their goals for themselves," Feldman explains.
Sit down and ask yourself what's important to you: Eating healthier? Getting fit? Stress relief? Sleep? Your career? Or maybe a combination?
There's no wrong answer, but only you know what you need.
2. Start with small steps
Once you have a new year resolution in mind, the next step is to create a plan with small, actionable steps.
Starting with a SMART goal can definitely help you focus your resolution. "Setting realistic, choice-driven goals are my favorite," Feldman explains.
Rather than setting a New Year's resolution to lose 20 pounds or "get healthy," she suggests setting a goal for exercising a certain number of times per week or cooking at home on set nights.
"Goals can seem really big and overwhelming," Feldman says. "My tip is to always break them down into single, simpler steps."
She recommends planning one day (or one week) at a time, setting reminders in your phone, and adding small items to your life that encourage success: "Simple things like buying a cookbook can be motivating for people."
This way, your nutrition and fitness goals are predetermined, so you can focus on action rather than planning.
3. Promise to commit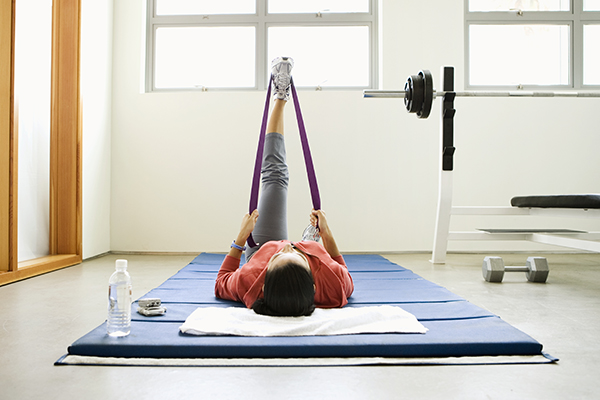 With small tasks planned out, the next step in achieving your goal is to make a promise to yourself.
It's also important to understand that the journey may include a few road bumps along the way.
Committing to the process helps people recognize that "the path to a goal isn't necessarily a straight line," Feldman says.
As you progress with your plan, tracking your progress (no matter how small ) can help you reaffirm that promise you made to yourself.
Maybe you add a sticker in your planner every time you meditate before bed, buy a water bottle designed to track your daily consumption, or log your workouts to see how many miles you've walked since the year started.
4. Hold yourself accountable
A personal commitment is a key step in creating a successful New Year's resolution, but external accountability and sharing your goal are also clutch in cementing success.
Try journaling, phone apps, and calendar reminders to help keep you accountable, too.
"A great way to help with commitment and accountability is to verbalize your goal to another person," says mental health counselor Kelly Houseman, MS, LLPC. "Having someone to cheer you on and hold you accountable outside of yourself can be a huge boost."
Since we're all still staying socially distanced, sharing on social media is a great way to stay accountable, too.
BODgroups is a great accountability tool — on this community-based platform, you can track your fitness and nutrition activity and share your progress with your group.
A BODgroup can help keep you accountable to your goals and can help you stay motivated throughout the year.
5. Celebrate your wins
No matter how small your "win," giving yourself a pat on the back can help reinforce your commitment to your New Year resolution.
"Wins are so deeply emotional," Feldman says. Rewarding yourself with a new workout outfit or a pair of headphones, for example, can motivate you to keep working toward your big goal.
Experiences (like sleeping in an extra hour or watching a favorite movie) are also good rewards that don't impact your budget.
"It's so important to allow ourselves to be proud and feel accomplished each small win we have," Houseman says. "Life can be overwhelming, so we can incorporate small changes that still make a big impact."