Breakfast for dinner is a quick and easy option for those with super-busy lives. Even better, it's a meal the whole family can enjoy.
Full of protein, versatile, and downright tasty, many healthy breakfast recipes work just as well for dinner.
"Kids generally like breakfast, so breakfast for dinner is a hit and a good way to get healthy foods into them," says Monica Hoss, M.S., R.D., L.D. "Picky eaters would also enjoy having breakfast options if there are familiar foods on the platter."
Here are 10 of our favorite breakfast for dinner recipes.
A perfect breakfast-for-dinner idea if you've got some leftover chicken, this healthy chicken and avocado scramble provides a whopping 48 grams of protein per serving.
And the quarter-avocado in the recipe offers a healthy source of fats, along with vitamins and minerals including potassium, says Shin-Di Cynthia Lai, LAc, DiplOM, B.S.N., R.N., P.H.N..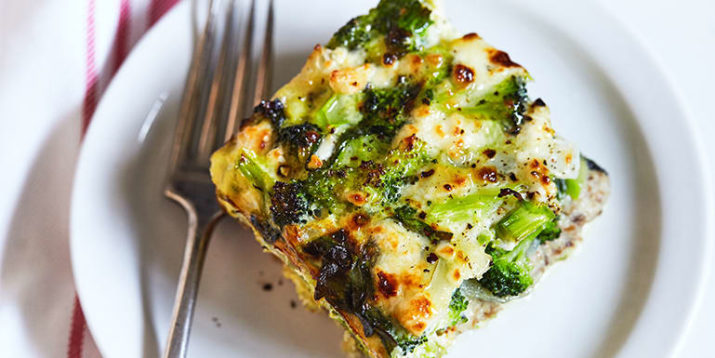 Made with layers of bread, eggs, and cheese, this brunch staple is perfect if you're cooking for a big family.
Our healthier version calls for crumbled feta, sprouted whole-grain bread, spinach, and broccoli, and provides 14 grams of protein per serving.
Change up the fillings and seasonings for a super-versatile breakfast-for-dinner option.
With loads of veggies, herbs, and spices, this sheet pan recipe is super-simple to prepare — just throw it in the oven and you're good to go.
(And you won't have to deal with a pile of dirty mixing bowls afterwards!)
This is also a great kid-friendly dinner option, Lai says.
This delicious breakfast salad works as an anytime salad!
Made with kale, sunflower seeds, onion, avocado, turkey bacon, egg, and all-natural vinaigrette salad dressing, it provides 15 grams of protein and 9 grams of fiber.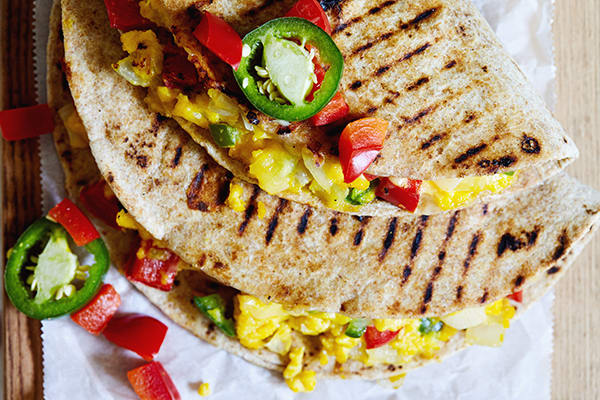 Quesadillas are a super versatile dish, which makes them a great breakfast-for-dinner option.
Stuff a whole-wheat tortilla with egg whites, shredded cheese, jalapeños, and bell peppers for a simple and spicy Mexican-themed dinner.
Made with poached eggs, roasted sweet potatoes, and plenty of veggies, this savory zucchini noodle breakfast bowl delivers 13 grams of protein and 10 grams of fiber per serving.
The creamy garlic and avocado sauce is so flavorful, you'll want to lick the bowl when you're done!
On those nights when you're too busy to cook — or tempted to just grab takeout — this avocado egg salad on toast takes only 10 minutes to prepare and is super filling.
It has 6 grams of fiber and 18 grams of protein to keep you satiated.
Dinner for breakfast, or breakfast for dinner? This recipe is both!
If you've got leftover roasted turkey from yesterday's dinner, just add Brussels sprouts, eggs, and shallots to make this yummy dish that's under 200 calories per serving.
For a quick and healthy dinner, this egg white sandwich — made with roasted peppers, basil, and mozzarella cheese — can be ready in just 15 minutes.
And with 31 grams of protein per serving, it's super filling.
Not a fan of eggs? Try this breakfast scramble for dinner instead.
Made with tofu (for the scrambled-egg texture) and veggies, and topped with avocado and fresh salsa, it has 14 grams of fiber and 17 grams of protein.
From the Team Beachbody Blog:  | BY: Chelsea Frank