The #mbf Muscle Burns Fat Super Block is the October workout program from BODi. Megan Davies brings you her newest moves to get great results. To find out what Megan has in store, scroll down to read, "
Ignite your metabolism. Build muscle. Burn fat. Commit to showing up with your dumbbells and BOD Rope 5 days a week for the next 3 weeks with Super Trainer Megan Davies for this new spin on the lifting and cardio mix you know and love.
Megan's bringing all-new moves, a fresh format once a week, and the perfect amount of recovery time in this can't-miss Super Block.
To learn more, keep reading.
So, what is a Super Block?
By now you've probably heard of BODi Blocks — new programs that start on the first Monday of every month.
Each Block features 5 workouts a week for 3 weeks, followed by an UP Week (which stands for Unconditional Progress) to reset and recover.
A Super Block is when our Super Trainers remake one of their most popular programs in the BODi Block format.
This is your chance to revisit your favorite programs, like #mbf Muscle Burns Fat, with new workouts, fresh playlists set to good music, and an entirely unique experience.
It's all about giving you more of what you love, plus a little push to help get you where you want to go.
Why are Blocks such a breakthrough?
They're based on block periodization, a proven approach to exercise and recovery that challenges you without overtraining.
It's all about helping you create consistency with your Health Esteem routine.
Your life is busy. Pretending you're going to work out every day and never eat a cookie is silly.
So, we're ditching the perfection mindset and bringing you new programs every month that you can actually stick to because they work with real life. Really.
Want to learn more about BODi Blocks and Super Blocks? Click here.
Super Block Spotlight: #mbf with Megan Davies
Cardio, lifting, total-body strength — everything you loved about the original #mbf Muscle Burns Fat plus new moves, music, and a mix of training styles and muscle focus to strengthen your core.
Add two days a week of active recovery and you've got the formula for a strong body and a happier, healthier you.
Super Trainer Megan Davies stays true to the essence of #mbf with this Super Block — it's still 3 weeks of super-effective workouts that build your metabolism and muscle to help burn stored fat.
But now Megan devotes two days every week to rest and recovery, so you can jump into the following week and go all in, every day.
You'll get all-new lifting and cardio moves, plus a fresh format for your Tuesdays, that will help turn your body into a calorie-scorching machine.
Much like the original, you'll focus on unilateral movements to keep your core working as you target different muscle groups.
With Megan walking you through technique and form, and encouraging you in each moment, you'll feel and understand all the benefits behind each move to really get the most out of her training.
Need to work your way up or tone it down one day?
We brought back Lacee Green, the original #mbf modifier and now a BODi Super Trainer, to demonstrate modified exercises while keeping you challenged and motivated!
What kinds of workouts can I expect?
You'll get 5 workouts a week, kicking off with the ultimate leg day and ending the week with a fun, high-energy Every Minute On the Minute (EMOM) workout.
In between, you'll get 2 days of core and 1 day of upper body. Expect a mix of lifting and cardio to strengthen your body as your increased muscle mass helps kick-start your metabolism.
At the end of the 3 weeks, Megan keeps you moving with Full Body Burn and Core Ignite for your UP Week workouts.
Looking for an extra cardio boost? Try the 3 bonus cycle workouts.
How is this evolving from the original program?
It's the same #mbf that helped you get amazing results the first time around but with new moves, a new workout, and more rest days, so you can come back stronger each week.
The workouts are set to hit music that makes the minutes fly by and at every moment you'll feel supported by Megan's training expertise and upbeat attitude.
Do I need any equipment?
You'll only need a few pieces of equipment for this Super Block, like light, medium, and heavy dumbbells and your BOD Rope(s), a cordless, weighted jump rope that helps you focus on speed and effort without worrying about tripping.
You can also bring a yoga mat to your workouts for a little extra cushion. Grab your BODi Bike and clip into the three bonus rides for some extra cardio.
How Do I know if the #mbf Super Block is right for me?
Did you love the original #mbf? Or are you new to training with Megan? Either way, this is your Super Block if you're looking for straightforward results from a balanced mix of cardio and lifting.
You'll quickly learn why the original #mbf was such a hit — when you combine effective, efficient exercises with the expertise of a Super Trainer who's got your back, it makes reaching your fitness goals that much easier.
If you want to help build strength for everyday life and boost your metabolism to maximize your calorie burn — while having some fun along the way — this is the way to do it.
What is recommended for healthy eating with this Super Block?
Nourish your body and accomplish your goals with one of our healthy eating plans, 2B Mindset or Portion Fix.
2B Mindset, created by Ilana Muhlstein, M.S., R.D.N., helps you achieve a healthy relationship with food while feeling more confident in your body.
Portion Fix, by fitness and nutrition expert Autumn Calabrese, uses color-coded containers to easily create perfectly balanced meals without counting calories or cutting food groups.
Get started with more than 1,000 delicious recipes on BODi to power your Super Block workouts.
When can I access the #mbf Super Block?
The #mbf Super Block begins October 2, 2023 — but it's on sale now!
You'll be able to purchase this Super Block as long as you have an active BODi membership.
How do I access Super Blocks?
There are a few ways you can unlock the #mbf Super Block, plus an additional Super Block, for free.
For starters, you can purchase a Total-Solution Pack or Completion Pack (The Essentials Collection is the perfect choice to build your Health Esteem routine) in September or anytime after.
You can also access #mbf with your initial purchase of a qualifying nutrition subscription. With your Pack or initial nutrition purchase, you get to choose your free Super Blocks when you Add to Cart.
What if you already have a nutrition subscription? If you renew your qualifying subscription in September, you'll unlock the #mbf Super Block for free.
What if you want just the standalone Super Block? You can access the #mbf Super Block for $29.
However you choose to unlock these Super Blocks, you need to have an active BODi membership to access them.
Want more info? Talk to your BODi Partner or click here for details.
‡ Click here for qualifying nutrition subscriptions.
Who is Megan Davies?
Super Trainer Megan Davies is an NSCA-certified personal trainer and creator of #mbf Muscle Burns Fat, #mbfa Muscle Burns Fat Advanced, and Sure Thing.
After appearing on BODi's fitness reality show, THE 20s, Megan became the next Super Trainer and created Clean Week.
Her passion for learning about physiology, health, fitness, and technique fuels every program she creates. Her down-to-earth, empowering workout style and upbeat personality make you feel like you're training with a best friend.
2023 Super Block Calendar
Want to know what's coming up next? Check the Super Block Calendar below and take a look at the phenomenal trainers and hit programs we've got lined up for you this year.
Get ready to have fun and feel amazing with tons of variety that keeps you coming back every month!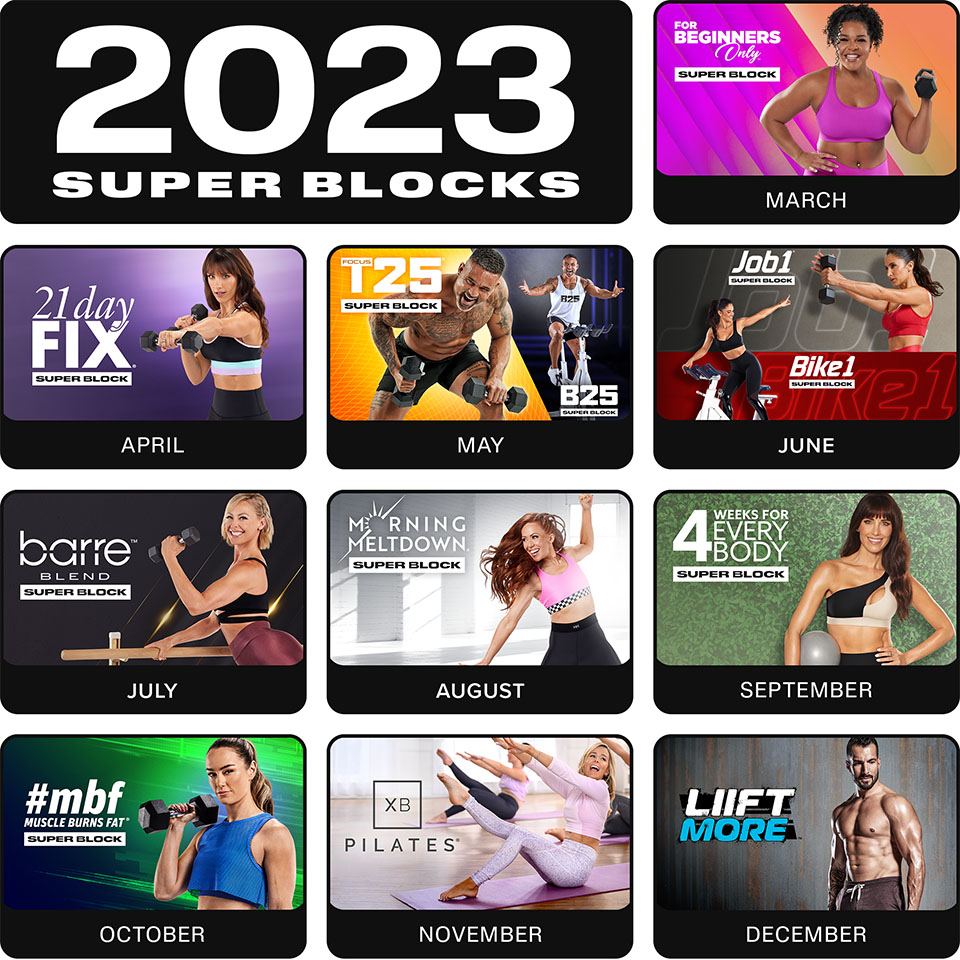 And don't forget to check out all the active Super Blocks on BODi:
For Beginners Only Super Block
In the For Beginners Only Super Block, Lacee Green builds you up from your very first workout with expert cues and encouraging words to guide you safely and effectively through a range of exercises.
As you progress into Week 2, she introduces more intensity — but still at your pace — with precise coaching in every move. You'll build off these first weeks by taking all the movements you've learned and combining them in Week 3.
FBO is for you if you need to learn exercise fundamentals and want to fast-track your progress, or if you're getting back into fitness after a break.
21 Day Fix Super Block
It's everything you love about 21 Day Fix with Autumn Calabrese — now in a Super Block! The workouts are similar to 21 Day Fix and 21 Day Fix Real Time. The moves are new, but the structure repeats over 3 weeks so you know what to expect.
Autumn designed it so you'll make progress each week as you gain confidence, push harder, increase your weights, and get stronger day by day.
FOCUS T25 Super Block
The FOCUS T25 Super Block is 3 weeks of cardio, lower- and upper-body weighted and bodyweight moves, and dynamic core work that all intentionally progress week by week as you get stronger.
The original FOCUS T25 pushed your limits in 3 cycles — Alpha, Beta, and Gamma — with 25 minutes of cardio and strength.
Shaun T now brings you the Delta edition, taking that efficient formula and injecting plenty of fresh, dynamic moves (you'll notice an uptick in weightlifting) while motivating you to reach for your personal best.
And before each workout, blend up Shaun T's Berrylicious Energize Cooler.
Job 1 & Bike 1 Super Block
The Job 1 Super Block with Jennifer Jacobs is 3 weeks long, with 3 strength and 2 cardio workouts per week that are perfect for all fitness levels.
You'll start with targeted strength training, get sweaty and energized with all-out HIIT days, challenge every muscle with dumbbells and resistance loops, and do heart-pounding bodyweight moves with minimal rest.
Finish every week with classic strength training and bodyweight intervals to help build muscle and endurance, and torch fat.
Jennifer's high-energy Bike 1 Super Block is a spin on the Job 1 concept: 20 minutes of work, 5 rides each week for 3 weeks.
You'll focus on endurance, strength, speed, and power using varying terrains and ride styles.
And make sure to try JJ's Double Chocolate Protein Smoothie after your workouts!
Barre Blend Super Block
During this Super Block, you'll do Elise's specialized combination of strength and interval training, and barre workouts to target your entire body, especially your booty, legs, and core.
Elise's workouts are full of mindset-strengthening inspiration as well. Every workout's theme is based on a different affirmation, and during the workout, Elise will pose thought-inspiring questions to help you become physically and mentally stronger.
Morning Meltdown Super Block
Wake up to heart-pumping cardio and total-body metabolic conditioning 5 days a week, for less than 30 minutes a day with Jericho McMatthews.
She incorporates HIIT-based cardio, core training, metabolic conditioning, and mixed martial arts in under 30-minute workouts. You'll build strength to help keep up your energy levels all throughout the day.
4 Weeks for Every Body Super Block
This Super Block will challenge you while going easy on your joints — with low-impact moves that fire up your muscles, and when paired with the right nutrition, help promote a healthy gut biome.
To get the most out of your workouts and aid your gut health, you'll want to follow Autumn's nutrition program, The 4 Week Gut Protocol, which was designed to be done with 4 Weeks For Every Body.
You're going to love the simplicity of the 4 Weeks For Every Body Super Block. Each workout is 30 minutes (or less!) per day, 4 days a week, for 4 weeks.