The September Super Block starts September 4th so get prepared now to share your month with Autumn Calabrese!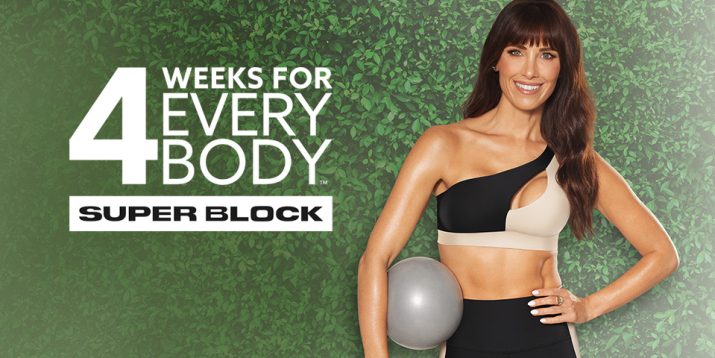 If you're a fan of Autumn Calabrese or her original 4 Weeks For Every Body program, get ready for this exciting new take on her stabilizing workouts.
Maybe you've worked out with Autumn before, maybe you haven't, or maybe you've been focused on her high-impact workouts like 80 Day Obsession.
Either way, you'll love this new Super Block and approach to low-impact fitness, designed to be paired with nutrition that leaves you feeling great.
So, what is a Super Block?
By now you've probably heard of BODi Blocks — new programs that start on the first Monday of every month.
Traditionally, each Block features 5 workouts a week for 3 weeks, followed by an UP Week (which stands for Unconditional Progress) to reset and recover.
A Super Block is when our Super Trainers remake one of their most popular programs in the BODi Block format.
Occasionally, a Super Trainer will adjust the Super Block format because the original program already incorporates the optimal ratio of workout to recovery, like Autumn Calabrese's upcoming Super Block, 4 Weeks For Every Body.
Instead of 5 workouts per week for 3 weeks, this Super Block has 4 workouts per week for 4 weeks without a traditional UP Week.
How this stays true to the block periodization philosophy is that you get ample rest and recovery time, but it's split up each week, rather than having one rest week at the end of the Super Block.
This Super Block is your chance to revisit one of your favorite programs with new workouts, new playlists set to popular music, and an entirely new experience.
It's all about giving you more of what you love, plus a little push to get you where you want to go.
Why are Blocks such a breakthrough?
Super Blocks are all about changing your relationship with healthy living in a way that makes sense for you and your schedule. It's all about helping you create consistency with your Health Esteem routine.
With direction from your Super Trainer, you're going to challenge yourself without overtraining.
You're going to take time for active rest and recovery. You're going to eat wholesome food that fuels your body for the next workout or your next busy day in everyday life.
Your life is busy. Pretending you're going to work out every day and never eat a cookie is silly.
And with all-new healthy recipes, we make it easy to stay on track and enjoy the foods you love.
So, we're ditching the perfection mindset and bringing you new programs every month that you can actually stick to because they work with real life. Really.
Want to learn more about BODi Blocks and Super Blocks? Click here.
Super Block Spotlight: 4 Weeks for Every Body with Autumn Calabrese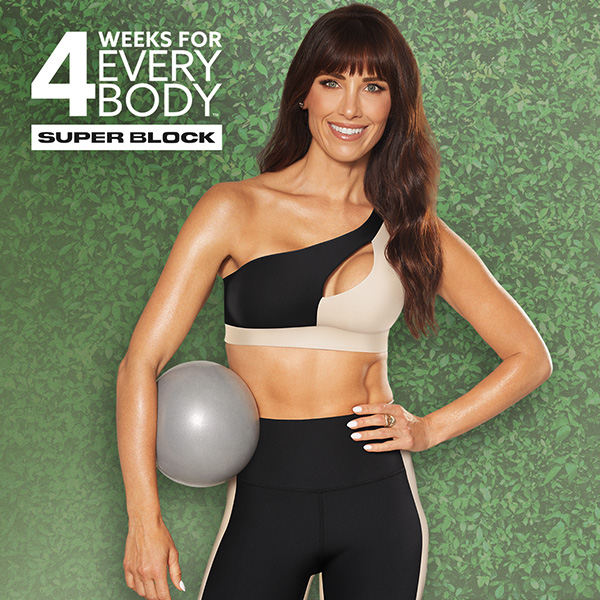 What is the 4 Weeks for Every Body Super Block?
You've never experienced a Super Block quite like this. Autumn's goal is to get you feeling great in your body again — and she has outlined simple steps you can take to reach that goal.
It's a 4-week program that will challenge you while going easy on your joints — with low-impact moves that fire up your muscles, and when paired with the right nutrition, help promote a healthy gut biome.
To get the most out of your workouts and aid your gut health, you'll want to follow Autumn's nutrition program, The 4 Week Gut Protocol, which was designed to be done with 4 Weeks For Every Body.
Autumn's motivational training style will inspire you to do things you never thought possible, and you'll leave each workout feeling stronger, with vitality like never before.
What kinds of workouts can I expect?
You're going to love the simplicity of the 4 Weeks For Every Body Super Block. Each workout is 30 minutes (or less!) per day, 4 days a week, for 4 weeks.
During this workout journey, you'll do Autumn's specialized combination of low-impact workouts, cardio, and eccentric (lengthening) exercises to leverage the benefits of time under tension to help maximize your results. The focus is exertion; the benefit is balance.
Each workout day is dedicated to a different motion or part of your body. You'll rotate between push, pull, leg, and cardio days as you make daily progress.
The workouts are designed to be done at a slower, more deliberate pace to decrease the pressure on your joints, while fully engaging every muscle.
With the Super Block, you'll also unlock 4 bonus bike rides with Autumn that will challenge you, leaving you dripping in sweat and beaming with confidence.
These bonus rides can be added as a 5th workout day per week if you'd prefer to maintain that schedule for consistency. Alternatively, it can replace a cardio day!
How is this evolving from the original program?
It's the same 4 Weeks For Every Body you know and love, but this round 2 has new moves set to popular music.
Do I need any equipment?
You'll only need a few pieces of equipment for this Super Block, like light, medium, and heavy dumbbells, a core ball, and a mat (optional).
If you choose to do Autumn's bonus cycle workouts, you'll need your BODi Bike.
How do I know if the 4 Weeks For Every Body Super Block is right for me?
Like the name says — 4 Weeks For Every Body is for every body! And by following the nutrition program pairing, The 4 Week Gut Protocol, you can discover food sensitivities and see even better results as you look and feel great.
Super Trainer Autumn Calabrese makes it easy to see and feel the results quickly. Her workouts are accessible for all fitness levels with her combination of low-impact moves, cardio, and lengthening exercises.
If you're willing to put in the work and commit to yourself for 4 weeks, you're going to end the Super Block feeling amazing.
What is recommended for healthy eating with this Super Block?
Nourish your body and accomplish your goals with Autumn's nutrition program, The 4 Week Gut Protocol.
Unaddressed digestive issues can negatively impact your energy, immune system, and mood. It can cause bloating and discomfort.
Autumn is no stranger to these tummy troubles and knows that a LOT of people struggle every day — that's why she created The 4 Week Gut Protocol.
Intended to be paired together, The 4 Week Gut Protocol and 4 Weeks For Every Body help to improve your gut biome through easy-to-follow steps.
It's simple: Isolate foods that might be causing digestive sensitivities. And what you find might surprise you. You'll start feeling better than you thought you could. Add in low-impact exercise and high-quality supplements.
Combining her firsthand experience and expertise, Autumn found a way to tackle her physically and emotionally challenging gastrointestinal issues while tying in a workout schedule that's easy to follow and easy on the joints.
And don't forget to grab Autumn's recommended supplement pairing — Optimize and Revitalize, a pre- and probiotic blend and a digestive enzyme blend that can aid your gut health.*
Is there a 4 Week Gut Protocol cookbook?
Yes! This much-requested cookbook features 100+ delicious recipes for every meal (and every body!), including snacks.
To purchase the cookbook, click here.
When can I access the 4 Weeks For Every Body Super Block?
The 4 Weeks For Every Body Super Block begins September 4 — but it's on sale now! You'll be able to purchase this Super Block as long as you have an active BODi membership.
You'll own the Super Blocks as long as you have an active BODi membership.
How do I access Super Blocks?
There are a few ways you can unlock the 4 Weeks For Every Body Super Block, plus an additional Super Block, for free:
For starters, you can purchase a Total-Solution Pack or Completion Pack (The Essentials Collection is the perfect choice to build your Health Esteem routine — and with Vegan Shakeology, it works with The 4 Week Gut Protocol).
And don't forget to add on the Autumn's Choice Kit for just $80 (a limited-time offer!) so you get everything you need for The 4 Week Gut Protocol.
You can also access 4 Weeks For Every Body and a second Super Block for free with your first purchase of a qualifying nutrition subscription in August.‡ We recommend Optimize and Revitalize for this Super Block.
What if you already have a nutrition subscription? If you renew your qualifying subscription in August, you'll unlock the 4 Weeks For Every Body Super Block for free.
What if you want just the standalone Super Block? You can access the 4 Weeks For Every Body Super Block for $29.
Just looking for nutrition? We have tons of new offers for The 4 Week Gut Protocol. Click here to purchase.
However you choose to unlock these Super Blocks, you need to have an active BODi membership to access them.
Want more info? Talk to your BODi Partner or click here for details.
‡ Click here for qualifying nutrition subscriptions.
Who is Autumn Calabrese?
Super Trainer Autumn Calabrese is the creator of 4 Weeks For Every Body and 21 Day Fix as well as other breakthrough fitness programs, the nutrition program The 4 Week Gut Protocol, the Portion Fix eating plan, and the FIXATE cooking show.
She's a certified holistic health coach through the Institute of Integrative Nutrition and has held certifications from NASM and AFPA.
2023 Super Block Calendar
Want to know what's coming up next? Check the Super Block Calendar below and take a look at the phenomenal trainers and hit programs we've got lined up for you this year.
Get ready to have fun and feel amazing with tons of variety that keeps you coming back every month!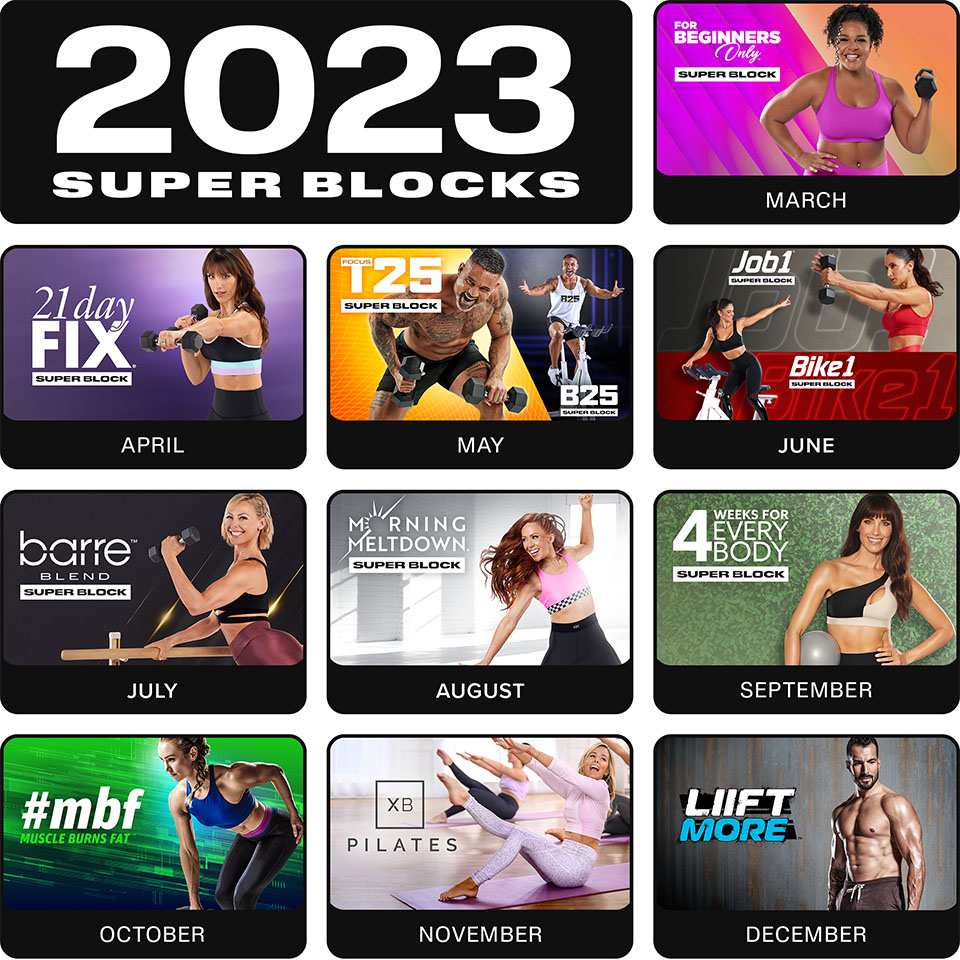 And don't forget to check out all the active Super Blocks on BODi:
For Beginners Only Super Block
In the For Beginners Only Super Block, Lacee Green builds you up from your very first workout with expert cues and encouraging words to guide you safely and effectively through a range of exercises.
As you progress into Week 2, she introduces more intensity — but still at your pace — with precise coaching in every move. You'll build off these first weeks by taking all the movements you've learned and combining them in Week 3.
FBO is for you if you need to learn exercise fundamentals and want to fast-track your progress, or if you're getting back into fitness after a break.
21 Day Fix Super Block
It's everything you love about 21 Day Fix with Autumn Calabrese — now in a Super Block! The workouts are similar to 21 Day Fix and 21 Day Fix Real Time. The moves are new, but the structure repeats over 3 weeks so you know what to expect.
Autumn designed it so you'll make progress each week as you gain confidence, push harder, increase your weights, and get stronger day by day.
FOCUS T25 Super Block
The FOCUS T25 Super Block is 3 weeks of cardio, lower- and upper-body weighted and bodyweight moves, and dynamic core work that all intentionally progress week by week as you get stronger.
The original FOCUS T25 pushed your limits in 3 cycles — Alpha, Beta, and Gamma — with 25 minutes of cardio and strength.
Shaun T now brings you the Delta edition, taking that efficient formula and injecting plenty of fresh, dynamic moves (you'll notice an uptick in weightlifting) while motivating you to reach for your personal best.
And before each workout, blend up Shaun T's Berrylicious Energize Cooler.
Job 1 & Bike 1 Super Block
The Job 1 Super Block with Jennifer Jacobs is 3 weeks long, with 3 strength and 2 cardio workouts per week that are perfect for all fitness levels.
You'll start with targeted strength training, get sweaty and energized with all-out HIIT days, challenge every muscle with dumbbells and resistance loops, and do heart-pounding bodyweight moves with minimal rest.
Finish every week with classic strength training and bodyweight intervals to help build muscle and endurance, and torch fat.
Jennifer's high-energy Bike 1 Super Block is a spin on the Job 1 concept: 20 minutes of work, 5 rides each week for 3 weeks.
You'll focus on endurance, strength, speed, and power using varying terrains and ride styles.
And make sure to try JJ's Double Chocolate Protein Smoothie after your workouts!
Barre Blend Super Block
During this Super Block, you'll do Elise's specialized combination of strength and interval training, and barre workouts to target your entire body, especially your booty, legs, and core.
Elise's workouts are full of mindset-strengthening inspiration as well. Every workout's theme is based on a different affirmation, and during the workout, Elise will pose thought-inspiring questions to help you become physically and mentally stronger.
Morning Meltdown Super Block
Wake up to heart-pumping cardio and total-body metabolic conditioning 5 days a week, for less than 30 minutes a day with Jericho McMatthews.
She incorporates HIIT-based cardio, core training, metabolic conditioning, and mixed martial arts in under 30-minute workouts. You'll build strength to help keep up your energy levels all throughout the day.
* To access Super Blocks, a BODi membership is required. For more info, talk to your BODi partner or click here for details.