The Barre Blend Super Block begins July 3, 2023, and is an inspiring new take on Elise Joan's amazing Barre Blend workouts program. Scroll down to read this post shared from the BODi Blog.
If you're a fan of Elise Joan or her original Barre Blend program, get ready for this inspiring new take on her amazing workouts.
Even if you haven't worked out with Elise before, this Super Block is sure to make you a fan of her empowering approach to barre-style workouts that emphasize the continued development of your health esteem.
Keep reading to learn more.
So What Is a Super Block?
By now you've probably heard of BODi Blocks — 4 new programs that start on the first Monday of every month.
Each Block features 5 workouts a week for 3 weeks, followed by an "UP Week" (which stands for "Unconditional Progress") to reset and recover.
A Super Block is when our Super Trainers remake one of their most popular programs in the BODi Block format.
This is your chance to revisit your favorite programs — like 21 Day Fix or T25 — with new workouts, new playlists set to popular music, and an entirely new experience.
It's all about giving you more of what you love, plus a little push to get you where you want to go.
Why are Blocks such a breakthrough?
They're based on block periodization, a proven approach to exercise and recovery that challenges you without overtraining.
It's all about helping you create consistency with your Health Esteem routine.
Your life is busy. Pretending you're going to work out every day and never eat a cookie is silly.
So, we're ditching the perfection mindset and bringing you new programs every month that you can actually stick to because they work with real life. Really.
Want to learn more about BODi Blocks and Super Blocks? Click here.
Super Block May Spotlight: Barre Blend With Elise Joan
What Is the Barre Blend Super Block?
You've never done workouts quite like this. Elise has taken ballet barre and made it approachable for everyone, regardless of fitness level or previous experience. And there's no at-home barre required!
It's a 3-week program that will challenge you — body and mind — as you strengthen and tone your physique with barre moves and resistance training, and get your heart pounding with interval training.
Elise's incredible moves, effective pacing, and inspiring teaching style will help you feel more confident and motivate you to express yourself in every workout.
What kinds of workouts can I expect?
You're going to love the simplicity of the Barre Blend Super Block. It's 30 minutes a day, 5 days a week, for 3 weeks.
During this workout journey, you'll do Elise's specialized combination of strength and interval training, and barre workouts to target your entire body, especially your booty, legs, and core.
Elise's workouts are full of mindset-strengthening inspiration as well. Every workout's theme is based on a different affirmation, and during the workout, Elise will pose thought-inspiring questions to help you become physically and mentally stronger.
At the end of the 3 weeks, Elise will guide you through your UP week with Barre Blend Flow Motion (an active recovery resistance workout designed to boost muscular endurance) and Barre Blend Hustle & Flow (a workout focused on flexibility, range of motion, balance, and yoga flow).
You'll also unlock 3 bonus rides with Elise that will challenge you, leaving you dripping in sweat and beaming with confidence.
How is this evolving from the original program?
It's the same Barre Blend you know and love, now rethought for 2023 with an updated look and feel.
The Barre Blend Super Block is just like Elise's original program but with a block periodization and Health Esteem twist.
These high-energy workouts are designed to be fast and effective, with two days of rest per week to allow your body time to recover and avoid burnout.
Do I need any equipment?
You'll only need a few pieces of equipment for this Super Block, like lightweight dumbbells, resistance loops, and a sturdy chair or barre.
You can also bring a yoga mat to your workouts for a little extra cushion.
How do I know if the Barre Blend Super Block is right for me?
This is a program for anyone who wants to level up their limits and level up their body.
Super Trainer Elise Joan has made barre workouts accessible for all fitness levels and backgrounds with a combination of high-energy, low-impact ballet barre moves and strength and interval training that will invigorate your entire body.
You don't need a background in ballet or any kind of dance to participate — just a desire to try new things, give your all, and continue your Health Esteem journey.
What Is Recommended for Healthy Eating With These Super Blocks?
Nourish your body and accomplish your goals with one of our healthy eating plans, 2B Mindset or Portion Fix.
2B Mindset, created by Ilana Muhlstein, M.S., R.D.N., helps you achieve a healthy relationship with food while feeling more confident in your body.
Portion Fix, by fitness and nutrition expert Autumn Calabrese, uses color-coded containers to easily create perfectly balanced meals without counting calories or cutting food groups.
Get started with more than 1,000 delicious recipe ideas to power your Super Block workouts.
When Can I Access the Barre Blend Super Block?
The Barre Blend Super Block begins July 3, 2023 — but it's on sale now! You'll be able to purchase this Super Block as long as you have an active BODi membership.
You'll own the Super Blocks as long as you have an active BODi membership.
How Do I Access These Super Blocks?
There are a few ways you can unlock the Barre Blend Super Block, plus an additional Super Block, for free.
For starters, you can purchase a Total-Solution Pack or Completion Pack (The Essentials Collection is the perfect choice to build your Health Esteem routine) in June.
Or you can also access Barre Blend with your first purchase of a qualifying nutrition subscription in June.*
What if you already have a nutrition subscription? If you renew your qualifying subscription in June, you'll unlock the Barre Blend Super Block for free.
What if you want just the standalone Super Block? You can access the Barre Blend Super Block for $29.
However you choose to unlock these Super Blocks, you need to have an active BODi membership to access them.
Want more info? Talk to your BODi Partner or click here for details.
‡ Click here for qualifying nutrition subscriptions.
Who Is Elise Joan?
Elise is an expert at connecting the mind and body, helping awaken you to your power, purpose, and calling.
In addition to holding multiple fitness certifications, plus two bachelor's degrees, she has worked as a primetime on-air health expert for major TV networks.
Elise has several popular programs on BODi, including Barre Blend, FIRE AND FLOW, and 3 Week Yoga Retreat.
2023 Super Block Calendar
Want to know what's coming up next? Check the Super Block Calendar below and take a look at the phenomenal trainers and hit programs we've got lined up for you this year.
Get ready to have fun and feel amazing with tons of variety that keeps you coming back every month!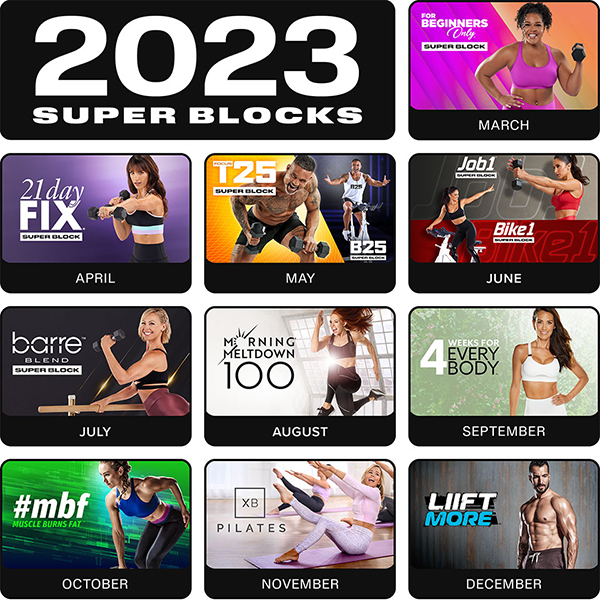 And don't forget to check out all the active Super Blocks on BODi:
For Beginners Only Super Block
In the For Beginners Only Super Block, Lacee Green builds you up from your very first workout with expert cues and encouraging words to guide you safely and effectively through a range of exercises.
As you progress into Week 2, she introduces more intensity — but still at your pace — with precise coaching in every move. You'll build off these first weeks by taking all the movements you've learned and combining them in Week 3.
FBO is for you if you need to learn exercise fundamentals and want to fast-track your progress, or if you're getting back into fitness after a break.
21 Day Fix Super Block
It's everything you love about 21 Day Fix with Autumn Calabrese — now in a Super Block! The workouts are similar to 21 Day Fix and 21 Day Fix Real Time. The moves are new, but the structure repeats over 3 weeks so you know what to expect.
Autumn designed it so you'll make progress each week as you gain confidence, push harder, increase your weights, and get stronger day by day.
FOCUS T25 Super Block
The FOCUS T25 Super Block is 3 weeks of cardio, lower- and upper-body weighted and bodyweight moves, and dynamic core work that all intentionally progress week by week as you get stronger.
The original FOCUS T25 pushed your limits in 3 cycles — Alpha, Beta, and Gamma — with 25 minutes of cardio and strength.
Shaun T now brings you the Delta edition, taking that efficient formula and injecting plenty of fresh, dynamic moves (you'll notice an uptick in weightlifting) while motivating you to reach for your personal best.
Job 1 & Bike 1 Super Block
The Job 1 Super Block with Jennifer Jacobs is 3 weeks long, with 3 strength and 2 cardio workouts per week that are perfect for all fitness levels.
You'll start with targeted strength training, get sweaty and energized with all-out HIIT days, challenge every muscle with dumbbells and resistance loops, and do heart-pounding bodyweight moves with minimal rest.
Finish every week with classic strength training and bodyweight intervals to help build muscle and endurance, and torch fat.
Jennifer's high-energy Bike 1 Super Block is a spin on the Job 1 concept: 20 minutes of work, 5 rides each week for 3 weeks.
You'll focus on endurance, strength, speed, and power using varying terrains and ride styles.
* To access Super Blocks, a BODi membership is required. For more info, talk to your BODi partner or click here for details.